A Holistic Journey to Health
Our Integrated Treatment for Sexual Wellness and Chronic Disease
Al Kaif Herbal Clinic, the best Sexologist Doctors for Male, is the most revered medical institution committed to the most diligent services of extinguishing the dreaded sexual disorders, chronic ailments, and Sexually Transmitted Diseases from the lives of sexually distressed people.
Embrace a healthier you with Al Kaif Herbal Clinic
How Al Kaif acquired mastery in the Unani stream of sexual medicine is not a wonder as we are the torchbearers of a great lineage of ancestors who were great Unani Hakims, having in-depth knowledge. They formulated the key ideas in diagnosing, treating, and medication which is transmitted to the present generation. And we combined this archaic know-how with our academic wisdom, aided by state-of-the-art infrastructure and supported by a panel of highly skilled Doctors. Thus a holistic treatment path, balancing the body's humor, without breaking the anatomical equilibrium, is initiated with the help of herbal medications and psychological therapy, which can wipe away any harmful sexual calamities and chronic illness.
Hakim Dr. Syed Shah Anisuddin Qadiri: Sexologist Doctors for Male
Hakim Dr. Syed Shah Anisuddin Qadiri is the head and chief of Al Kaif Herbal Clinic and holds an illustrious career in revamping the sexual lives of sexually illicit people, by eradicating the inflicted sexual disorders and diseases forever. He is the present generation sexologist wizard who hails from the above said aristocratic ancestry of great Hakims. He devised a herbal way of medicine by clubbing the inherited knowledge with his acquired knowledge having the backup of futuristic sophisticated medical infrastructure. He is bestowed with the best doctor award, multiple times by our country, in recognition of the medical services he had rendered to mankind.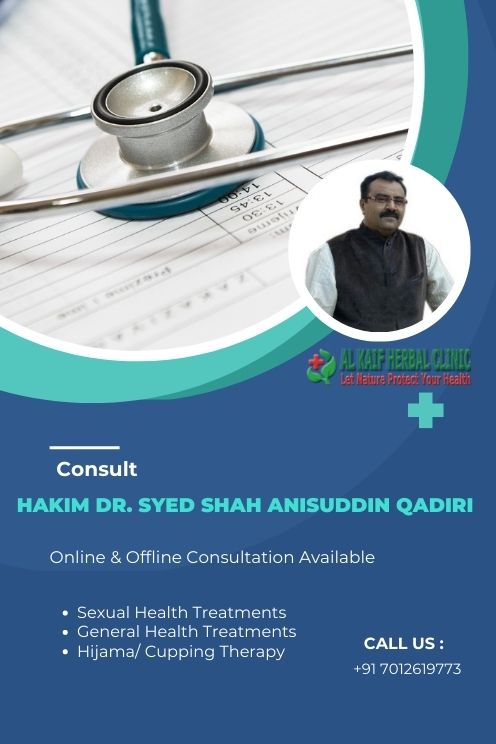 Our Expert Panel Of Doctors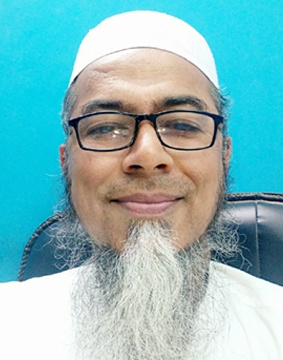 Professor Mohammed Ahsan Faroqui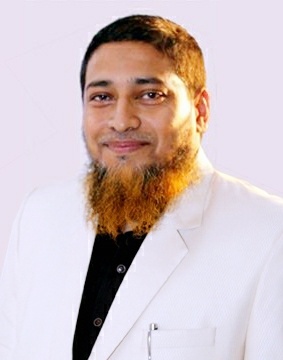 Dr. Mohammed Minhajuddin Khan
B.U.M.S. (Medical Officer)
B.U.M.S – Women's Health Specialist
Hakim Syed Shah Ghayasuddin
Al Kaif: Revitalize your body and mind with Unani treatments
Al Kaif Herbal Clinic follows the strict guidelines and treatment practices envisaged by the Unani stream of medicine, one of the sublime streams of medicine, having an age of 7000 years. Constant research, updation, and upgradation of these treatment techniques equip Al Kaif Herbal Clinic, the most trusted and proven sexologist of our times.
Al Kaif Herbal Clinic: The Sexual Wellness Hub
Al Kaif Herbal Clinic has the best treatments for havoc evoking Erectile Dysfunction, Premature Ejaculation, Penile Issues, and Sexually Transmitted Diseases like Gonnhoroea, Syphilis, Genital Herpes, etc. Detailed diagnosis comprising of one-to-one interaction, physical examination, and paramedical tests, if needed, will be done on the patient, who is struck by any of the diseases, and based on this, 100% herbal medicines without any side effects will be administered. Hakim Dr. Syed Shah Anisuddin Qadiri and his team of sexologist doctors for male, with their proficiency in psychological therapy, will conduct counseling to dismantle the psychological blockages, hampering sexual flow. Thus a rejuvenated life, full of sexual enthusiasm is offered to the patients.
Hakim Ajmal Khan Memorial Global Award presented to Hakim Dr. Syed Shah Anisuddin Qadiri