Sexually Transmitted Diseases (STDs)/ Venereal Diseases
(பாலியல் ரீதியாக பரவும் நோய்கள் அல்லது பால்வினை நோய்கள்)
Sexually Transmitted Diseases (STDs) come under the purview of not only sexual diseases but life-choking or life-harming diseases. These diseases are primarily contracted through sexual contact, that too unprotected sexual contact either with an infected partner or with multiple partners. Sexually Transmitted Diseases Treatment is available at Al Kaif Herbal Clinic.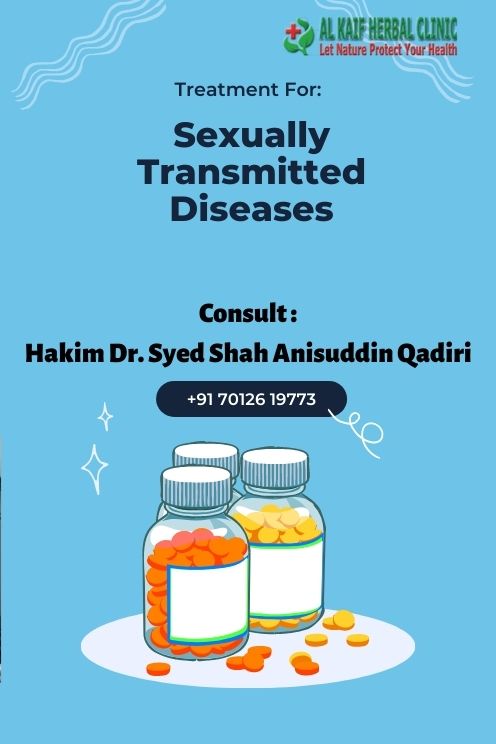 What is Sexually Transmitted Diseases (STDs) (பாலியல் ரீதியாக பரவும் நோய்கள் அல்லது பால்வினை நோய்கள்) ?
These diseases are primarily contracted through sexual contact, that too unprotected sexual contact either with an infected partner or with multiple partners. Bacteria, Viruses, and Parasites are the transporters of these virulent diseases through blood, semen, or vaginal fluids.
Occasionally these diseases can be transmitted without sexual contact, such as from an infected mother to her baby during pregnancy or through blood transfusions or sharing needles.
The chief sexually transmitted diseases caused by bacteria are:
Gonorrhea
Syphilis
Chlamydia
Those by parasites is  Trichomoniasis and by viruses are
As we already said sexually active persons are at high risk of contracting sexually transmitted diseases because they tend to stoop to unprotected sex. Vaginal or anal penetration without using a latex condom increases the chance of getting an STD. Likewise, sex with multiple partners also put you at great risk. Usage of excessive alcohol and drugs induces a predicament in your judgment of safe sex.
The chief physical causes of Sexually Transmitted Diseases (STDs) are:
STDs do not always exhibit symptoms. It can be contracted from people who seemingly look perfect without passing a feeling that they are infected. But sometimes STDs do emerge with symptoms. They are:
High cholesterol
Penile discharge
Foul-smelling vaginal discharge
Sores in the genital, oral or rectal areas
Pain and burning sensation during urination.
Swollen lymph nodes in the groin with a sore feeling
Pain during sex
Bleeding from the vagina
Fever
Bruises
rashes on body, hands, and feet
Lower abdominal pain
These symptoms will not be visible or felt at the time of exposure, but maybe years later. So periodic checkups are mandatory at least for sexually active persons, otherwise, these will turn out to be severe complications. Such possible complications are:
Arthritis
Pregnancy issues
Inflammation in eye
Pelvic pain and inflammatory disease
Infertility
Heart disease
Cervical and rectal cancers
The best and safe way to avoid contracting sexually transmitted diseases is not to indulge in unprotected sex or sex with unknown, multiple partners. Have safe sex with your long-term relationship partner only.
Sexually Transmitted Diseases (STDs) Treatment
But if you have been struck by any of the sexually transmitted diseases, there is no other way but only to seek the help of a qualified sexologist. To refer such an experienced and expert sexual treatment asylum, no name other than Al Kaif Herbal Clinic will come to our mind. Al Kaif Herbal Clinic is an outstanding sexual hub cradling the highly acclaimed tenets of the Unani stream of medicine. Inheriting a glorious ancestry of great Hakims, Al Kaif absorbed the genius of those forefathers and clubbed with the academic brilliance of the doctors performing in the clinic. Founded and headed by  Hakim Dr. Syed Shah Anisuddin Qadiri, the unquestionable monarch in holistic sexual treatment in the country, he incorporated the futuristic infrastructure in realizing the herbal medication treatment to its fullest vista. Any type of sexual disorder or disease will be expelled from human life forever. A man caught up with any STD will be subjected to detailed diagnosis and para medical tests to detect the pertinent cause creating the disease.
Sexually Transmitted Diseases (STDs) Treatment is given to that cause by administering 100% customized, herbal medicines with no side effects, which as we said will wipe away the disease from its roots, not to revisit in the person's lifetime. Thus this legendary institution by the name Al Kaif Herbal Clinic will reinstate your sexual glory to its zenith, garlanding your life with sexual happiness and bliss.
AL KAIF HERBAL CLINIC
Z. A Plaza – Londonpet
Opp: Iyangar Bakery
Near Anna Statue
Krishnagiri – 635002
Tamil Nadu – India
Hakim Dr. Syed Shah Anisuddin Qadiri: Sexual Medicine Doctor in Krishnagiri
Hakim Dr. Syed Shah Anisuddin Qadiri, the best doctor for Erectile Dysfunction Causes and Treatments in Krishnagiri, is a dexterous physician who holds the therapeutic lantern of the Unani stream of medicine, transcended down ages from the noble hands of a renowned Hakim family. An accomplished physician and scholar, he churned his clinical expertise and specialized in sexual medicine which became a boon to thousands of patients cramped with sexual disorders, diseases, and imperfections. Inheriting, professing, and practicing the holistic and pure herbal way of treatment, he gave back sexual superiority and rejuvenation to these patients and brought them back to their happy and spirited marital lives. Recipient of the best doctor award multiple times, he deserves a standing ovation from the affected and the affected multitude.
Treatment for all Sexual Problems
Al Kaif Herbal Clinic engraved the dent of holistic treatment for multifarious diseases, engulfing the human body. We encompass a wide range of treatment practices and procedures that will thrash out any type of sexual disorder, disease, and calamity, whether they are chronic or newly contracted.
Low Libido
Sexually Transmitted Diseases or Venereal diseases
Female Sexual Problems